Having been in business since 2004, Credit Saint has a strong background in helping people fix their credit.
But rather than pegging themselves as a credit repair company, Credit Saint takes it one step further, instead referring to themselves as a credit restoration service. As you'll see, they provide extra help to help you in all aspects of your credit health, not just deleting derogatory items.
What Credit Saint Offers
One of the unique services Credit Saint provides is that you're assigned a specific team of specialists to your case. So, each time you call or email, you're talking to the same people. It's an extra step in customer service that can be both helpful and comforting throughout the credit repair process.
Credit Saint also helps restore your overall credit health. In addition to challenging negative items on your credit reports, Credit Saint also develops an action plan with steps you can actively take to boost your credit score. Explore each of the three available plans to see which one suits your needs. There's something for everyone.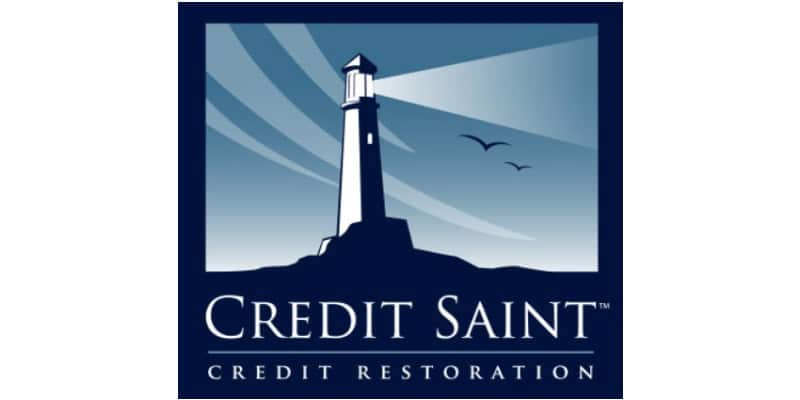 Credit Saint Packages
Credit Saint offers three credit repair packages offering different levels of service. The first package is called Credit Polish and costs $79.99 per month, plus a $99 first work fee. First work fees are billed six days after you sign up for the program.
Next is the Credit Remodel package, which costs $99.99 per month. The most extensive package is called the Clean Slate and will set you back $119.99 each month. There's also a higher charge for the first work fee, which costs $195.
Most packages include the same services, but with the Credit Polish and Credit Remodel packages, you'll only get less "aggressiveness," and no dispute avalanche.
You'll also miss out on escalated information requests with the Credit Polish package. The types of negative marks you can have disputed on your behalf also vary depending on which package you select.
Frequently Asked Questions About Credit Saint
To help you decide if their credit restoration is right for you, check out some of the most frequently asked questions. You'll find all the nitty-gritty details of what Credit Saint has to offer.
That way, you can make an informed decision about the best credit repair service for your specific needs. You'll also find out how to contact Credit Saint if you're ready to get started on your credit repair journey.
How does Credit Saint restore bad credit?
Credit Saint begins the process by performing an in-depth review of your credit history. They'll earmark potential disputes to make and also provides you with a plan you improve your credit score on your own.
Every 45 days, you'll receive a new credit report to see your progress. You can also check your online account to see what changes have occurred. At that point, Credit Saint sets up new milestones to continue to improve your credit score. That's why Credit Saint refers to their services as credit restoration rather than simply credit repair.
Credit Saint helps you with all aspects affecting your credit history, including advice on settling debt and dealing with your creditors. The startup fee may be more expensive than some other companies, but you're really receiving a more in-depth analysis of your credit, plus customized solutions for your problems beyond negative items alone.
When can you expect to see results?
Credit Saint has a 90-day money-back guarantee for the removal of questionable items. However, you might even see results sooner than that. And if you're not satisfied within 90 days of starting your credit repair service, you will be refunded.
Check your online account page for updates at any time to see where you stand in the process. Also, keep an eye out for your first credit report that will be mailed to you after 45 days in the program.
With any luck, you'll start seeing improvements that soon. And if not, you know you only have a few more weeks until you're guaranteed a removal, which should boost your credit score.
How do you sign up to get your bad credit fixed with Credit Saint?
It's easy to sign up. You can register by filling out a form online. If submitting your information online, the website is built with an encryption system to keep your personal data safe.
To get started, simply fill out a few fields such as name, address, email, and how you heard about the credit repair company. You'll then be contacted to see how they can help you. At that point, you can take advantage of a free consultation to get an idea of whether they're right for you.
Does Credit Saint offer a guarantee?
Yes, Credit Saint offers a fairly comprehensive 90-day money-back guarantee. If you've had no questionable items removed from your credit report within 90 days of service. At that point, you'll need to file an audit request so that a specialist can make sure there hasn't been anything removed from your report.
Be sure to contact your specialist by phone so they can properly verify your identity. Credit Saint has 30 days to review your credit report and you may not have added any new derogatory items to your credit reports since starting your program to qualify. Note that with the 90-day money-back guarantee you only receive a full refund for 90 days of service, even if you've been enrolled longer.
It's important to note that Credit Saint has an A+ Better Business Bureau (BBB) rating. So, you can rest assured that they will take care of you.
What kind of items can Credit Saint get removed from your credit report?
Credit Saint can help you with just about any type of derogatory item on your credit reports, but you'll need to sign up for the appropriate package. Here is a rundown of which negative items can be addressed with each plan.
Credit Polish Package: Late payments, identity theft, charge-offs, collections, and inquiries.
Credit Remodel Package: Everything included in Polish package, plus bankruptcies and repossessions.
Clean Slate Package: Everything included in Polish and Remodel packages, plus judgments.
It's helpful to know what's on your credit history so you can pick the right plan for your specific situation.
Is there a chance negative items can return to your credit report?
It is possible for a negative item to reappear on your credit report, though this is a rare occurrence. According to the Fair Credit Reporting Act, the credit bureaus must notify you before they re-list any previously deleted items.
If you receive this notification, Credit Saint can work on getting it removed permanently when it makes sense to do so.
Just be sure to track all of your correspondence with the three major credit bureaus to stay up to date on what's happening with your file. Then, reach out to them as quickly as possible to create a new plan of action.
Is Credit Saint better than Lexington Law or other credit repair companies?
There's no way for a review to tell you which credit repair firm is the best one for your individual situation. We do rank Lexington Law as number one because of their value and lengthy track record.
They also charge less than the most robust packages at Credit Saint. But remember, Credit Saint provides extremely comprehensive services if you're looking for holistic credit repair.
Even with many negative marks removed, it can only help so much if you're still saddled with enormous debt or aren't sure how to manage your monthly finances. Consider what exactly you need before deciding which credit repair firm is best for you.
How much does Credit Saint cost?
As we discussed earlier, Credit Saint's plans have a monthly fee of between $79.99 and $119.99. If you have a judgment you'd like to dispute, you'll definitely want to sign up for the most expensive plan. Otherwise, it won't be addressed.
Similarly, only the plans for $99.99 and $119.99 per month addresses bankruptcies and repossessions. But even if you don't have those more severe tradelines, you can get some extra service with the more expensive plans.
So if you need results more quickly for financial reasons (such as an upcoming loan application), you may consider an upgrade to receive extra "aggression" and escalated information requests. Remember that you'll also need to pay a one-time first work fee, ranging between $99 and $195 depending on your chosen plan.
Does Credit Saint offer any discounts?
Discounts may vary depending on when you decide to sign up. At the time of this writing, signing up for Credit Saint's mailing list allows you to receive a coupon code for $15 off your initial fee for any program.
That could drop your first work fee to either $84 for the Polish and Remodel packages, or $180 for the Clean Slate package.
While many credit repair companies offer discounts for signing up with a friend or spouse, there doesn't appear to be a partner discount available at this time. It never hurts to ask for a discount during your initial consultation, in case any new promotions have surfaced.
What is Credit Saint's mailing address?
If you need to reach out via mail, you can reach them at their New Jersey office. Here is Credit Saint's full address for your reference:
Credit Saint, LLC
Park 80 West
Plaza 2, Suite 200
Saddlebrook, NJ 07663
During what hours can you reach Credit Saint?
Credit Saint has staff on hand from 9:00 a.m. to 9:00 p.m. Eastern time on every single day of the week. This is especially convenient because you can find a time to call, regardless of what day of the week it is.
Whatever your schedule needs, it's easy to accomplish. And if you really want to get in touch, you can contact the credit repair company via email 24 hours a day. You can also try Live Chat on the website for quick service.
How can you cancel your credit repair services?
When you're happy with your credit score and no longer require Credit Saint's services, it's easy to cancel. You can do so at any time, but realize that they don't pro-rate monthly plans. So if you cancel in the middle of your billing cycle, you'll still be required to pay for the entire month of service.
At the end of your last month of service, you won't be able to access your online account anymore, so make sure you have all the information you need from there. Otherwise, you can simply call your credit specialist to get the cancellation process started.
Bottom Line
Credit Saint offers a full suite of services. It's a great choice if you need help getting your credit score in shape on top of your typical credit repair services. Credit specialists are extremely accessible and should know about your individual situation when you need them.
However, if you just need a few negative items from a few years ago removed from your credit report, you may find better value elsewhere. Overall, Credit Saint provides members with detailed credit help to make a truly life-changing experience.